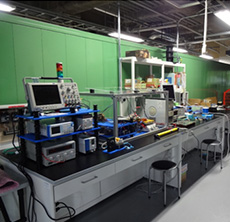 Welcom to our Laboratory Web site !
This laboratory is a joint laboratory with Mitsubishi Electric Corporation, which develops basic and elemental technologies for power electronics. 
In efforts to prevent global warming, power electronics technology that aims for high efficiency and stabilization of electricity from production to consumption is becoming more and more important. In cooperation with the members of the Power Electronics Laboratory of Tokyo Tech, we are working on daily research toward the evolution of technologies related to power semiconductors, electric circuits, and controls, which are basic and elemental technologies.